OUR LATEST ALBUM!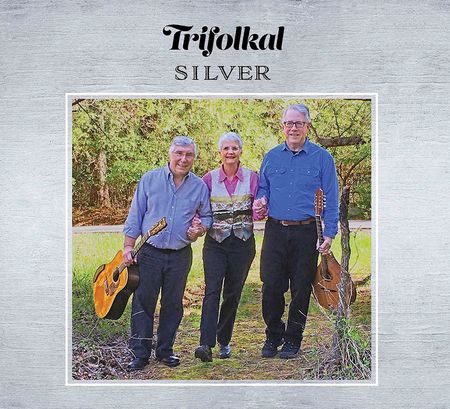 Our latest album, "Silver," celebrates our 25 years of playing together! There is nothing more magical than sitting in a circle in the living room, harmonizing with your friends on old folk songs. (Well, at least for silver-haired folkies like us.) On this album, we share some "living room" gems by our favorite songwriters and musical heroes including Tom Paxton, Harry Chapin, Laura Smith, Mike Settle, Bob Nolan, Tom Springfield, Brian Wilson, and Hedy West. The tunes on this album are ones that have brought us much joy (and more than a little laughter) over the years. To our families and friends – even those whose hair is not yet silver – thanks for listening. Here's a link to an interview with Warren Kurtz from Goldmine: The Music Collector's Magazine.

"Silver" and most Trifolkal albums are available for downloads or streaming through many fine purveyors of digital music, including:
CDs can be ordered by contacting us.
Meanwhile, please explore our website to listen and learn more about Trifolkal, its music, and their special "Caregiver Program." For starters, here's our video of "Another You," the opening track from the "Silver" album. Check out our YouTube channel for moreTrifolkal videos. Enjoy!